If I'm saying « Anonymous » I guess that every body have in mind the same image : an empty black suit, or the mask of Guy Fawkes. The basic idea is that everybody could be behind this image, everybody could be Anonymous. Anonymous has no race, Anonymous has no gender. Anonymous is an idea.
But I'm not taking a big risk by saying that behind the idea are projections of people about who is likely to be an Anonymous. And as ever when something is supposed to be neutral, this projection is a white male. The image in itself connote masculinity : it's a suit, traditionally male clothe, and even if empty, the shape is still the one of a male body. The mask is also a man's face. Besides, one of the unofficial rule of the internet, also known as "rule 30" says : "There is no girl on the internet". Indeed, the classical representation of hackers do not usually include females.
Though some noteworthy efforts are made in order to challenge this representation of Anonymous but not all are taking the same path.
Making some of the Anonymous videos with a synthesized female voice is one of the way to fight against stereotypes. Sometimes you can also find videos in which the speaker is a woman with the mask.
Discourses in themselves tend to be integrative. "Who is Anonymous? You are Anonymous. Your parents are Anonymous. Your brothers and sisters and friends are Anonymous. Doctors, students, priests, atheists, and stay-at-home mothers are Anonymous. Everyone who wishes to protect freedom and destroy oppression is Anonymous.".  Or elsewhere : "We come from all places of society: We are students, workers, clerks, unemployed; We are young or old, we wear smart clothes or rugs, we are hedonists, ascetics, joy riders or activists. We come from all races, countries and ethnicities. We are many. We are your neighbours, your co-workers, your hairdressers, your bus drivers and your network administrators. We are the guy on the street with the suitcase and the girl in the bar you are trying to chat up. We are anonymous."
There is a real try to create real neutrality behind the Anonymous image and idea. But then there is also another way to fight against the male image of Anonymous. Last year, an operation called Anonymiss was meant to integrate women.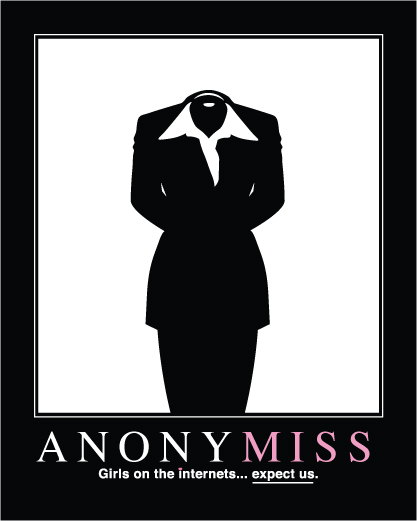 The text going with the woman suite is quite interesting. First there is a text intended for potential "Anonymiss" :
"So you want to be a modern girl./You want more freedom./You want more power./You want to have fun./You want to prove that women are more courageous than men./And you love the Internet./ We need you./Welcome on board, Anonymiss"
And then this one, intended for actual anonymous -presented as all being men- to spread the message.
"Gentlemen,/ tell your girlfriends, your wives, your sisters, your mothers, that we protect their freedom of speech all around the world. And tell them that it will be even more protected if they protect it themselves. And if they don't do it for the fun, tell them to do it for the innumerable censored women all over the planet. Don't be a wanker : share our ideal!"
When I read it I first thought that if the intention was good the way to do it was clearly not. And then I wondered how much I should take this text seriously. Seems to be too exaggerated paternalist to be read at the first degree but I still want to make a short analysis.
Why paternalist ? If it's not obvious for you, you can begin to look at the words used to refer to women. The first one is girl, and of course we have also the "miss" of anonymiss, two terms which can hardly avoid to be condescending. Then you have "girlfriends", "wives" "sisters" and "mothers", oh, please!, classical feminine roles. I'd have been glad to see here friends, or colleagues, maybe. When it refers directly to women it's with an optic of fight between sexes : "You want to prove that women are more courageous than men.". No. Why on earth would we like to prove such a thing ?, or as victims : "censored women". Traditional protective masculine posture appears here : "we protect their freedom of speech".
Even if the whole text is made to involved women, to show them they have capacities of action and a place in Anonymous I think it's a clumsy way to encourage empowerment.
We are facing here a classical dilemma of feminism, the same problem that you can find for example concerning vocabulary. Should women be integrated to tend towards neutral concept willing to abolish gender -but here is raising the risk of just making women inivsible- or should we have specific images/words for women in order to give them visibility -but then you recreate difference(s) by iteration and reconduct the idea of a feminine specificity.
I personally dislike the term anonymiss even if I like the image. Using both female and male voices, as well as showing females and male bodies behind the mask seems for me to be a better way to act than the creation of a new word. But the debate is open.