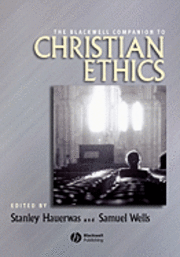 This "Companion" is nothing like most such "Companions" published in resent years at a mind-boggling rate. It does not provide a balanced overview, with all relevant perspectives given their due. It is all about Hauerwas. Not in the sense that it should be called "The Blackwell Companion to Stanley Hauerwas" (but I bet that one is on its way sooner or later), but rather "The Stanley Hauerwas Companion to Christian Ethics".
For years, Hauerwas has taught his course in Ethics based on the liturgy (Hauerwas writes about this approach in In Good Company). This book follows the same approach and is written mainly by Hauerwas's students. That is, some thirty themes, ranging from abortion to GM foods, from masculinity to politics, from wealth to war are connected to some aspect of the Christian liturgy and dealt with according to this. Liturgy is here a rather wide concept, perhaps Christian praxis would be a better term.
Obviously, while this approach gives the book a certain coherence, it is rather uneven. But it still works as the first stop where one looks to find the "Hauerwas point of view" on a particular theme. I have used several of these texts in class. The book also includes a long introduction (about 50 pages) by Hauerwas and Wells which is a good overview of Hauerwas take on "ethics" in its mature form.
A second edition of this book was recently published and some texts have been replaced. I haven't read that one, but Brad provides an overview of the changes. For a full list of the contents (1st edition) see Google books.
Amazon