This Book Is Anti-Racist: 20 Lessons on How to Wake Up, Take Action and Do The Work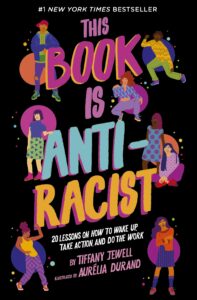 By Tiffany Jewell and illustrated by Aurélia Durand
About this book
The first book suggestion of the year is Tiffany Jewell's book "This Book Is Anti-Racist: 20 Lessons on How to Wake Up, Take Action and Do The Work". This easily readable book contains practical and helpful tools to understand structural racism, it is impact and how to dismantle it. The book is constructed by 20 chapters or lessons of becoming more aware, understanding oneself and aid change to take place. Each chapter also ends with practical exercises to do and to utilize the knowledge processed in each chapter.  These 20 lessons are additionally divided into four categories. Beginning with waking up and understanding oneself and one's identity, followed by a more historical recount of how historical events, court cases and activists has affected and still affects people and their surroundings. The third category discusses how to take action, use one's voice and power and how possible achieve solidarity. The last category explores how working in solidarity can achieve change, by using one's privilege, being an ally and having respect and kindness towards oneself and others. 
The book is targeted at young adults; however, the content is suitable for both younger and older individuals. Since the book is meant for a younger reader, it deals with difficult topics, such as structural racism, hate crimes and tragic event, but in a digestible way that all individuals can understand and reflect upon. The book has also been translated into Swedish. 
The author Tiffany Jewell is a Black biracial writer, twin sister, first-generation American, cisgender mama, anti-bias antiracist (ABAR) educator, and consultant. Tiffany is also the co-founder, alongside Britt Hawthorne, of ABARatSchool, an organization that strives to support educators and caregivers in their anti-bias anti-racist journeys. Tiffany spends her time baking bread and macarons, building LEGOS, watching British detective shows, and dreaming up how she can dismantle white supremacy. Tiffany currently lives in Western Massachusetts (on the occupied land of the Wabanaki and the Nipmuck) with her young activists, her partner, and a turtle she has had since she was nine. This is her first book for children and young adults. 
The book is also illustrated beautifully by the French illustrator Aurélia Durand. Aurélia represents Afro-descendants as joyful, proud, and empowered – a united community whose destinies are intertwined. Her colorful personalities present the unified voice of a global community whose hopes, dreams, and desires envision an inclusive future for all. Her work has been featured in advertising campaigns, galleries, and editorial magazines; her clients include Nike, The New Yorker, Facebook, and more.  
#1 
NEW YORK TIMES
 BESTSELLER
Featured by Oprah's Book Club on the 
Anti-Racist Books for Young Adults
 list curated by best-selling author Jacqueline Woodson
Additionally recommended by 
ESSENCE
, We Need Diverse Books, ellentube, Brit + Co, PureWow, 
Teen Vogue
, 
Time
, 
New York
, 
USA TODAY
, and TODAY.com