Social Exclusion's 2nd annual seminar in the course Race, Racism and Antiracism.
PANDEMIC OF COLOUR: RACE, RACIALIZATION, AND HEALTH
21.05.2021
The second annual seminar organised by the students of the programme in 2021.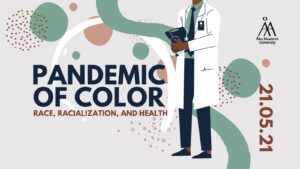 Keynote Speakers:
Dr. Tuuli Kurki is Academy of Finland Postdoctoral Researcher at CEREN, University of Helsinki (Finland) and the Principal Investigator of "Racism, Mental Health and Young People of Colour (RaMePOC, 2020-2023) research project, which focuses on mental health support provided in educational institutions, youth work and mental health NGOs in Finland and the UK for young people of colour.
More information:
https://www.linkedin.com/in/tuuli-kurki-97163731
https://researchportal.helsinki.fi/en/persons/tuuli-kurki
Dr. Michael McEachrane is a visiting researcher at the Raoul Wallenberg Institute of Human Rights and Humanitarian Law. He specializes in Black European Studies, Postcolonial Studies and Human Rights Studies. Among his recent publications are, "On Conceptualizing African Diaspora Studies" forthcoming in the journal African Diaspora and "Pan-Africanism and the African Diaspora in Europe", a chapter of the Routledge Handbook of Pan-Africanism (2020). Dr. McEachrane is also a seasoned international human rights advocate for people of African descent and among other things a Board Member of Black Lives Matter Sweden.
Dr. Gavan Titley is a Senior Lecturer in the Department of Media Studies, Maynooth University, and a Docent in Media and Communications at the Swedish School of Social Sciences, University of Helsinki. In his research, he focuses on politics of race, racism and multiculturism in European politics. His most recent books are Racism & Media (Sage Publications 2019) and Is Free Speech Racist? (Polity 2020).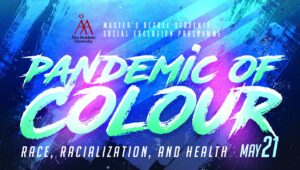 Panelist:
Paco Diop is a civil rights activist and works as kindergarten teacher in Turku since 2014. He is also a youth coach in the athletics department. In 2017, he was chosen as the New Turku resident of the Year.
Yasmin Ibrahim is a Project Officer for Equity at Feminist Culture House, where she creates and manages anti-racism trainings for arts organizations in Finland. A holder of a MA in Gender studies from the University of Turku, she researched the effect of seeking asylum on Arabic women in Finland. Ibrahim is also a writer who has contributed to ASTRA Feminist magazine and Kandaka blog.
Anuhya Bobba is a doctoral student at University of Turku. Her master's thesis demonstrates how systemic racism created the April 2020 overrepresentation of Somalis in coronavirus cases in Helsinki, Finland. As a new researcher, she is particularly interested in how race is denied political representation in Europe and how European racelessness obscures processes of racialization and their material effects.