Racism, power and resistance — Racialisation, whiteness and colonialism in Finland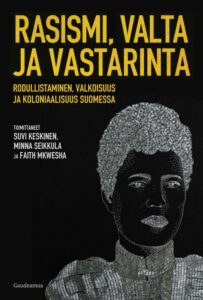 Rasismi, valta ja vastarinta discusses phenomena related to racism and antiracism in Finland and unpacks those through conceptional framework of racialization, whiteness and de/coloniality. It features texts by both activists and academics.
This book answers questions on issues of racism specifically within the context of Finland.
Some of the questions this book answers are
What is racism in Finland?
What's antiracism?
How is it practiced?
Who can talk about antiracism in Finland?
What does it require to be antiracist in Finland?
For our Finnish readers, this book is a good read as it is not too academic.
"My chapter in this book is one of my best and most relevant writing this far in Finland because for the first time, Finnish teachers can have access to my theorisation of antiracism education in Finnish language." – Aminkeng A Alemanji