Yesterday, 9 November 2021, the SoEx MDP held its third annual SoEx Dinner in Arken. In attendance were the current students of the programme as well as teachers and staff involved with SoEx. Also in attendance was Dean Peter Nynäs from FHPT, and some additional invited guests. The event was a great success, and as Project Assistant to the MPD I would like to extend my deepest thanks to everyone that was able to attend for making the event so enjoyable.
On a personal note, I have been a part of SoEx since its first year, as both a student and a member of staff. When we held the first dinner back in 2018, there were only a handful of us in attendance sitting around a round table. Three years hence, and we were filling an entire staircase full of people, with many staff and students not present! To see how far the programme has come is truly wonderful. I feel privileged to have been a part of this growing and important Master's Programme for all these years, and I look forward to seeing it reach new heights in the future.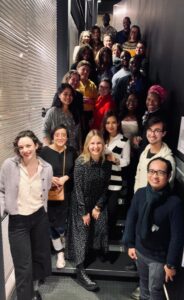 Photos of the event are available in the Archive.