WRITTEN BY Linda Sundqvist
So, I started my journey with this blog post by googling, of course, and to my surprise, this headline was the first thing to pop up on my screen. This was the slogan for a site called the world Jewish travels, suggesting the ten places I need to visit when exploring Israel – the Holy Land.[1] This list, of course, included places like Jerusalem, "the world-known historical epicentre", and the oh-so-trendy Tel Aviv ", the vegan capital of the world"[2]. Now, these places in central Israel are beautiful, so beautiful that I almost got lost in my travel fever, forgetting what I was trying to research.
This was worrisome. You see, I am white and from Finland, which means I am privileged and have never witnessed anyone living in the circumstances like the ones in Palestine-Israel. The only way for me to get information about something happening outside of Europe is by searching for it. So, for me to actively be searching for information about what is happening only to find some travel agency really puts the problem into perspective.
There is an ongoing conflict between Palestine and Israel; this much I feel you could call common knowledge. Now what that conflict is about and why it seems it cannot be resolved takes a lot more than a few hours on google. To understand why the situation is so dire in Palestine-Israel, one must first know how these arrangements came to be and why these two states are clumped into one name in the first place. Another thing one must become familiar with is social exclusion. You see, social exclusion describes a situation where not everyone has equal access to the opportunities and services that would allow them to lead a decent, happy life, which is the case in Palestine-Israel[3].
Looking into the history of this conflict, one could go back as far as time. Where you start telling the story also really matters. For the sake of this post, I feel like we could start about 100 years ago with the fall of the Ottoman Empire in WWI, leaving Britain to take control of the Palestine area. Back then, Palestine had a majority of Arabs and a minority of Jews. This came to change with growing tension when Britain was "tasked" (I find this an ironic choice of words) by Europe (no surprise there) to establish a national home for Jewish people.[4]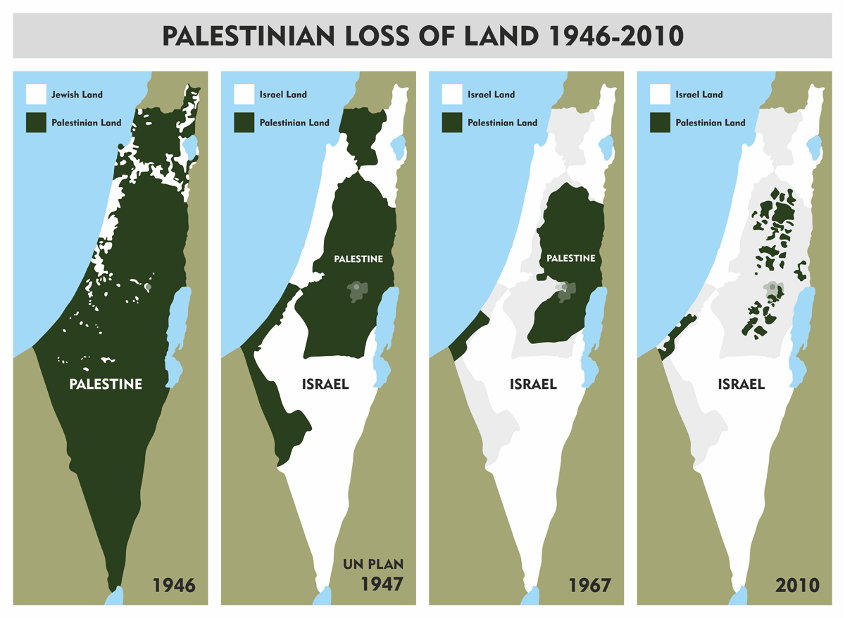 The years after WWI had European Jews leaving Europe seeking a home in Palestine, culminating in a flood of Jewish refugees fleeing the horrors of WWII. For these people to go through all they did to find a new home where they could live in peace sounds like a silver lining to sorrows. What that point of view on this story forgets though is that there already were people with their own culture living there. As expected, this British "task" backfired, and when this Europe-induced mess got even bigger, Britain backed out and left the people in Palestine to their own devices.
After this, we have numerous other states getting into this conflict, thinking they would know how to fix centuries of sorrow or just wanting to take advantage of a shattered country to expand their own. The country's civilian people are refugees or caught in the middle of it all. They are left without a home, without peace, which is what they were seeking in the first place. Today the whole area previously known as Palestine is officially Israel, according to the UN.[6] The irony of it all is that Europe appointed the area as a home for the Jews they were persecuting, only for the Arabs living there to then be persecuted.
Social exclusion is a relatively new theory on a multidimensional phenomenon. It is a process as well as a state in which individuals are unable to fully participate in different societal aspects of life, like economic, social, political, and cultural. Participation might be hindered by a lack of material and resources like education or income. Social exclusion can also result from alienation and oppression, when an individual cannot exercise their voice or when their rights and dignity are not respected and protected in the way that they should be.[7]
The Palestinian people are clumped into the West Bank and the Gaza strip, which are the only areas still referred to as Palestine. They are being separated from the rest of Israel by hard, physical borders that are not easily passed. They do not have the same health care, education, or economic resources. A lot of the resources they had have been taken away because of the borders, making trading almost impossible. The lack of education and integration into the rest of society leaves them without any of the necessary tools to get out of the deprived life induced by social exclusion.
As I am sure, you have noticed, something is very wrong with the status quo in Palestine-Israel. In no way do I feel it would be of any use pointing fingers and playing the blame game, discussing who did what to whom, and so on. I feel like we need to focus on the situation at hand and the people suffering. No people in Palestine-Israel are strangers to suffering. Still, with this post, I would like to point out that borders, disdain, and deprivation socially exclude Palestine's people. They are being excluded from a society on the verge of flourishing where exclusion serves no other purpose than that of hate.
REFERENCES

:
[1] https://www.worldjewishtravel.org/virtual-tours?utm_source=Google&utm_medium=CPC&utm_campaign=Virtual-Tours-Israel&utm_source=google&utm_medium=cpc&utm_campaign=10526386025&utm_content=104436524112&utm_term=israel%20tourism&gclid=Cj0KCQiAu62QBhC7ARIsALXijXTWphCrrubd34seJOlSS1PKKGErLlBEUTxpuyBnOdiBWRTZaGtIINoaAolgEALw_wcB
[2] https://curlytales.com/israels-tel-aviv-becomes-vegan-capital-of-the-world/
[3] https://www.liberties.eu/en/stories/social-exclusion/43579
[4] https://www.britannica.com/place/Palestine
[5] Palestine loss of land, Credits to Noorrovers, CC BY-SA 4.0: https://commons.wikimedia.org/wiki/File:Palestinian-loss-of-land-1946-2010.jpg
[6] https://www.bbc.com/news/newsbeat-44124396