Written by Johanna Zilliacus
In my opinion, there is no climate justice if there is no justice for indigenous people
– Mari Valjakka, Sámi pastor at Evangelical Lutheran Church of Finland, in an interview by Barents Observer[1]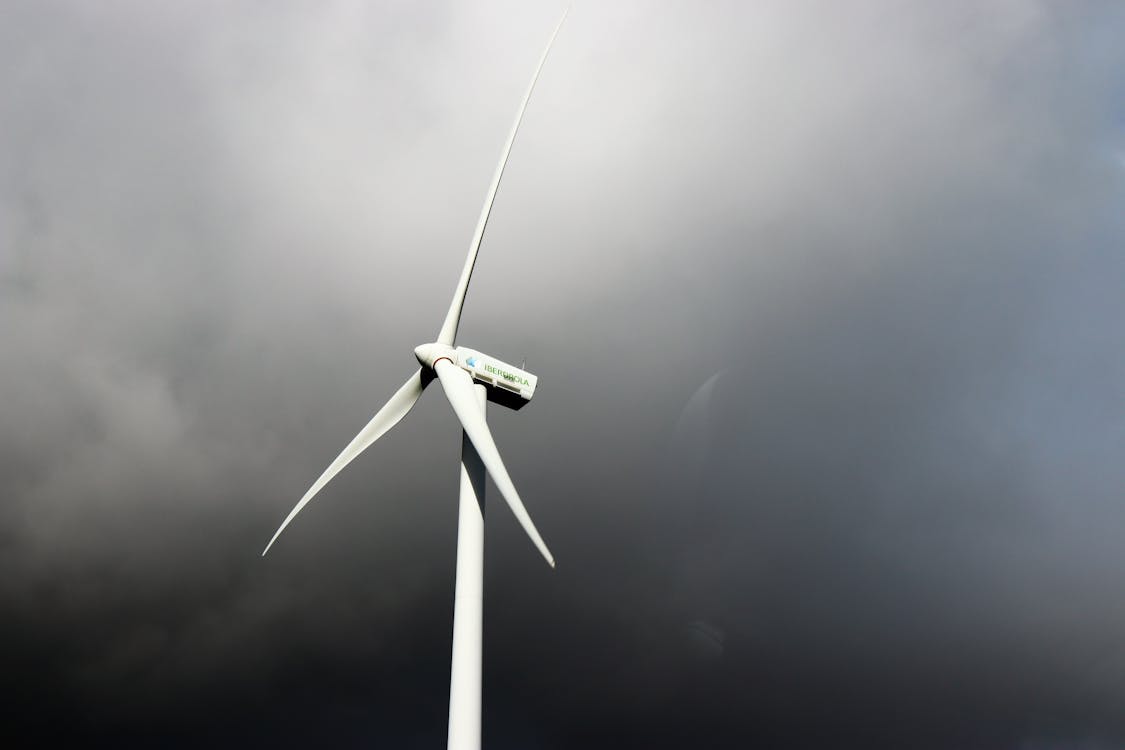 Photo: Expect Best / Pexels.com
Indigenous Sámi communities in Finland, Sweden and Norway, have all spoken up against green colonialism in their territories[2]. They claim that these governments' climate action violates their rights to land, livelihoods and decision-making. Most of the opposition to green colonialism relates to wind farms built and planned in the Sámi territory (Sápmi). Further, mining projects for minerals needed for electric vehicle batteries are considered to be conducted in Sápmi. A (currently dormant) railway project crossing Finnish Sápmi[3] could also be categorised as a climate change project. They contribute to shifting our societies away from fossil fuel dependency. At the same time, these climate projects can be seen as a continuum of centuries of repressive politics of the Nordic countries on Sámi communities.[4] In this blog post, I'll look into Finnish wind power development in Sápmi from a lens of coloniality of power and the process of bordering and continued social exclusion of Sámi peoples.
Case: wind power in Sápmi creating borders
The global climate change emergency requires quick action by nations worldwide to drastically reduce greenhouse gas emissions. One important measure is the shift towards producing renewable electricity[5]. This is also the motivator behind the several wind power projects planned and implemented across Finland, including in Sápmi, where wind conditions are good. One example of this is a project in Lapland by Smart Windpower Oy. The planned wind power farm will expand over 68 m2 in the area of Ylitornio.[6] Local communities, including Sámi communities, have vehemently opposed this project.
The main reason for the local opposition is the expected negative impact on reindeer herding, a traditional livelihood of the Sámi population. Studies have shown that reindeer avoid going near wind power parks, which affects their grazing behaviour and places more pressure on the smaller amounts of land available for grazing, impacting the longer-term sustainability of those lands[7]. Another reason for the opposition is the lack of care for seidas, the holy places of Sámi[8], many of them located on the fells and hills where wind farms tend to be built. Finally, an important reason lies in past negative experiences of energy projects linked to coloniality of power and social exclusion of Sámi. Hydropower plants were built in Sápmi in the 1960s, causing the forced relocation of hundreds of Sámi in Finland, negatively affecting reindeer-based livelihoods and tearing apart language and cultural networks. These projects were developed without proper engagement and consultation of the local population[9], which can be seen as a misuse of the colonial power of the Finnish government for the extraction of natural resources in Sápmi. This past act of repression is thus clearly still a cause for the divide between Sámi communities and the Finnish government, and the wind power projects continue with this bordering process.
Political implications of the wind farm projects
Janne Hirvasvuopio, a Sámi member of the Green Party, explains that he cannot support the wind power ambitions of the Green Party as long as they imply wind power farms in Sápmi. He claims that wind power projects in Sápmi are a continuation of colonial power relations. The Finnish government uses its colonial power to extract natural resources of the Sápmi lands once again and draws parallels between the wind power projects to the disastrous hydropower projects[10]. Interestingly, the Green Party has been one of the most vocal parties in relation to Sámi's rights, but at the same time, green colonialism is drawing borders between (green) Sámi activists and the Green Party.
On the other hand, the concept of green colonialism could also be misused for political purposes to drive the agenda of the climate change-denialist "True" Finns Party. Member of Parliament Kaisa Juuso has used it as a facade to oppose wind power projects[11], however, without acknowledging the colonial power relations between the Finnish government and the Sámi population.
Whose knowledge counts?
Another aspect of coloniality of power and social exclusion of Sámi in the form of green colonialism is the Eurocentricity of knowledge and generally approved science relating to climate change action. In line with the assumed rationality[12] of the Western forces driving modernity, technology (such as wind power) is seen as a central solution to climate change. This view completely ignores the indigenous knowledge that could provide less resource-intensive and more sustainable solutions for tackling climate change[13].
This blog post is not a stance against wind power. We need to disconnect our societies from fossil fuels as soon as possible, and renewable energy is a meaningful way forward for this. However, we need to ensure that any climate projects are designed with an understanding of the underlying power relations between the Sámi and the Finnish government, respecting the Sámi community's knowledge as well as the right to their lands and livelihoods. Further, indigenous knowledge should become a central input for all climate change action.
This blog illustrates how a colonial past still today affects power relations. Climate change projects developed without this understanding and consideration may lead to the further social exclusion of Sámi people and the development of a more robust cultural, social and economic border between the Finnish state and Finns, and Sámi communities
———————————————————————————————–
[1] Salonen, S-M. (2021, November 14). Sámi representatives in COP26 raise concerns over 'green colonialism'. The Barents Observer. Available at: https://thebarentsobserver.com/en/indigenous-peoples/2021/11/sami-representatives-cop26-raise-concerns-over-green-colonialism
[2] See for example: Salonen, S-M. (2021, November 14). Sámi representatives in COP26 raise concerns over 'green colonialism'. The Barents Observer. Available at: https://thebarentsobserver.com/en/indigenous-peoples/2021/11/sami-representatives-cop26-raise-concerns-over-green-colonialism
[3] Paltto, A-S. & Tammela, L. (2021, May 18). Saamelaisten huoli vaihtui huojennukseen, kun Jäämeren rata päätettiin poistaa maakuntakaavasta: Arvokas päätös, mutta yhä pelottaa. Yle/ Finnish Broadcasting Company. Available at: https://yle.fi/uutiset/3-11935800
[4] Keskinen, S. (2019). Intra-Nordic Differences, Colonial/Racial Histories, and National Narratives: Rewriting Finnish History. Scandinavian studies, 91(1-2), 163-181. https://doi.org/10.5406/scanstud.91.1-2.0163
[5] See, e.g. International Panel of Climate Change (2018). Global Warming of 1.5°C. An IPCC Special Report on the impacts of global warming of 1.5°C above pre-industrial levels. Available at: https://www.ipcc.ch/sr15/
[6] Laatikainen (2020). Ylitornion kunnanhallitus hyväksyi Honkavaara-Isovaaran tuulivoima-alueen kaavoitusaloitteen. Lapin Kansa. Available at: https://www.lapinkansa.fi/ylitornion-kunnanhallitus-hyvaksyi-honkavaara-isov/2967286
[7] Seipiharju, S. (2020, July 29). Lisääntyvä tuulivoimaa luo painetta porotaloudelle Norjassa – tuoreen raportin mukaan porotalous ja tuulivoima eivät sovi samalle alueelle. Yle/ Finnish Broadcasting Company. Available at: https://yle.fi/uutiset/3-11466670; Ny Teknik (2016, August 24). Studie: Vindkraftverk stör renar. Available at: https://www.nyteknik.se/energi/studie-vindkraftverk-stor-renar-6779259
[8] Verde (2021)
[9] Yle/Finnish Broadcasting Company (2010, December 10). Tutkimus: Vesivoiman rakentaminen vahingoitti saamelaisia. Available at: https://yle.fi/uutiset/3-5682820
[10] Leukumaavaara, J. (2019, August 29). Twitter-saamelainen Janne Hirvasvuopio haluaa puhua vihreästä kolonialismista. Vihreä Lanka. Available at: https://www.vihrealanka.fi/juttu/twitter-saamelainen-janne-hirvasvuopio-haluaa-puhua-vihre%C3%A4st%C3%A4-kolonialismista
[11] Juuso, K. (2020, February 26). Vihreä kolonialismi valtaa Suomen. Blog post at Kaisa Juuso – kansanedustaja. Available at: https://kaisajuuso.kotisivukone.com/blogi/2020/02/26/33389
[12] Quijano, A. (2007). COLONIALITY AND MODERNITY/RATIONALITY. Cultural studies (London, England), 21(2-3), 168-178. https://doi.org/10.1080/09502380601164353
[13] Pettenger, M. E. (2016). The social construction of climate change: Power, knowledge, norms, discourses. Routledge; Brugnach, M., Craps, M. & Dewulf, A. (2017). Including indigenous peoples in climate change mitigation: Addressing issues of scale, knowledge and power. Climatic change, 140(1), 19-32. https://doi.org/10.1007/s10584-014-1280-3